See on Scoop.it – 21st Century Digital Technology News&Views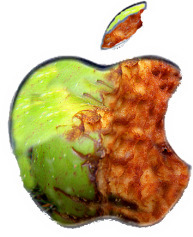 Perhaps Apple needs to get a clue. A 16GB iPad isn't large enough for our modern day. We have lots of stuff to store. We have Movies. We have Audio. We have Photos. We have Apps!
Apple needs to get the price down and the storage up. I know Apple and the Digital Corporations want us to buy online storage but when the Internet in the USA is slow and cumbersome while being unreliable at the same time. No way.
I realize I can buy a wireless 3TB Apple Time Capsule for our homes but in case you haven't noticed Apple, your top seling devices are mobile!!
You've got to get your shit together Apple. You're losing Market Share and soon it just won't be worth it to not use a more advanced customizable affordable alternative. Especially when you refuse to give us a reason to stay. High prices and PR will only get you a few more years and then even Android will be too good to pass up.