See on Scoop.it – Secular Curated News & Views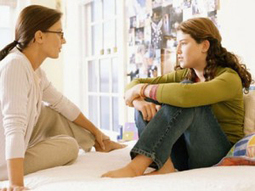 Sowing the Seeds for Healthy Body Image, Sexuality and Relationships
Moms, ask yourself these critical questions about your pre-teen or teenage daughter:
What is the best age to talk to my daughter about her menstrual periods and bodily changes that she'll be going through?What can I do to protect her from mixed messages she may be getting about her sexuality, body image, and her role as a woman?Am I making a grave mistake by assuming she is "smart enough" to know how to NOT get pregnant?Is there anything I can do to keep her safe when she is twerking, sexting and going to Rainbow Parties behind my back?If I suspect she has been sexually abused and she denies it when questioned, how do I get her to talk about it so I can help?
I know these are hard questions.
As a deeply concerned, conscious mom, you want your daughter to be informed so she can avoid making choices she may later regret, simply because she didn't know any better.
You want to do more than just hand her a book and say "Let me know if you have questions."
I know you want better for your daughter. You want her to be able to make healthy choices and not have to rely on her friends, classes at school, books or the internet. Most of all, you want her to be safe and protected.
Ever wish you had a road map to guide you through the tangled web of teenage sexuality?
What's a mother to do?
The good news is, you don't have to figure this out on your own, spending months, even years, reading parenting "how to" books. Instead…
Please join me for this FREE online event ~
See on raisingempowereddaughters.com