See on Scoop.it – Secular Curated News & Views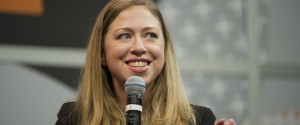 A reporter once asked Chelsea Clinton about her father's affair in which POTUS Bill Clinton got a blowjob in the White House. She responded that it wasn't the public's business, that it was a private thing for the Clinton family.
Well she was wrong. She was an asshole. POTUS Bill Clinton having oral sex on the job is definitely the public's business!! Chelsea is a Clinton alright. She thinks she's privileged and her father even while employed by WethePeople can violate our trust by having sex with another women on the job, in the White House offices. Such Clinton arrogance express by this asshole Chelsea Clinton is just the tip of the iceberg of contempt many in Washington DC have for us working class voters.