See on Scoop.it – Secular Curated News & Views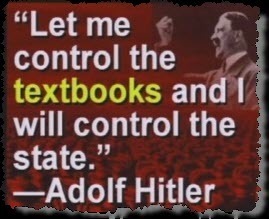 Why do Christians want to take over our elected representative secular schools? http://ow.ly/i/4UQVZ Christian Schools where authority is absolute. Under Christian education there is no debate about what is being taught. No input but the Church authority. Once Christianity gains control of our educational system there will be no teaching of Science.
The Christian Leader Adolf Hitler said it best and is highlighted in the included graphic. Secular education will become the same fantasy land that is Sunday school where Yehoshua shows his love of mankind by killing us all in a global flood drowning men, women, children, babies, pregnant women, all plants and all animals. The Christian idea of love is to destroy the world! Pitiful.