See on Scoop.it – Godless Antitheist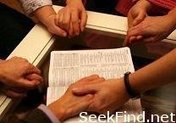 Atheist explaining why he believes God doesn't exist: "There are 42,000 conflicting Christian denominations all claiming to hear from the same God, and they all claim that they are right and all the others are wrong."
1. Very few claim to base theology on hearing from God or God's leading. That is not part of the way that most operate. Divisions are all based on reasoning beyond the text of the Bible.
2. Most Christian denominations have very similar understandings of the basic Christian doctrines.
3. No one has all the truth.
4. Most importantly, if the church is in an immature state, how does this disprove that God exists? Thelogical problem with the Atheistic reasoning is that the conclusion does not follow from the evidence given. The Atheistic response is irrational.
But all of that doesn't matter since the Atheist can come up with dozens of reasons for his unbelief. When all of those have been demonstrated to be irrational, the Atheist can go back to the first one and start all over again or just resort to name-calling and personal attacks. The religion of hardened Atheism is like the religion of Satan worship. Both have submitted to the same spirit and are currently slaves of that spirit. Only Christ can free such a person, but that person must turn to Christ.
click the link to read the rest of the article
See on www.seekfind.net