See on Scoop.it – Secular Curated News & Views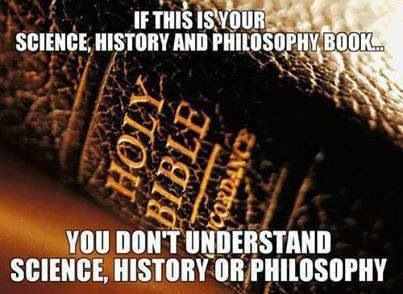 When their most used resource are facts written by other christians it kinda tells you how desperate things are among #christians #bible especially when the world is full of other superstitious documents writren by believers of other superstitions that are equally unreliable and fictitious. The christian can see the log in the eye of other superstitions. It's just their own delusion they refuse to be critical. Everything a christian states that proves other superstitions wrong also applies to their supersttion. They just choose to lie about it.
Those who claim christians are hypocrites and/or delusion cover up the fact that every christian is neither a hypocrite or delusional. They are simply lying.
This is why they get upset and rude to facts, evidence and other truths that prove their supersttion is a Fascist Big Brother belief system. They tell you rightly when pushed in a corner that it doesn't matter what you prove, their suerpstiion is based on faith. Pushed futher into a corner and they reveal their superstition is based on blind faith. Any evidence of truth that does not agree with their christian beliefs are ignored regardless how true they are.
A conman flimflam artist relies most on your thinking they too believe their own bullshit. This is simply another part of the lie. Liars are only lying about their belief to get you comfortable with believing as well. It's all a lie with just enough truth to get you pulled into their deceit.
When a christian gets angry they are angry that you refuse to suspend the truth and accept their lies. It's got nothing to do with wanting you to find a god and everything to do with winning over the minds and hearts of others so that they may extend their influence in order to control the whole world.
You will notice a common sense reasonable logical person turn into a wild animal when you dare question their domination. They dominate others through invoking their will as a god's will. You will be attacked and the christian you've been talking to will quickly becon the strength of numbers as they call on the other christians in the room that a non-believer is present. Suddenly you are surrounded, hounded and abused by a mob of confidence men/women.
Anything you might say will be quickly met with a barrage of counterpoints. If you are wise you'll find an exit and never return. You are unwelcome. During the olden days you would have been burned at the stake as a witch or heretic. Laws banning the free speech of non-believers are still on the books in many states in North America! What other topic do you know of where speaking the opposite position is a crime.
Soon it will be a crime to speak any opposing position of the status quo. It all began with our acceptance that non-believers have no free speech in America. Sad. This is the foundation of Fascist in the USA. Big Brother Jesus leads the way.